Daniel Craig named BAFTA LA's British Artist of the Year
Daniel Craig, currently riding the wave of success with "Skyfall" receiving accolades from press and fans alike, has been ofifically awarded by BAFTA in Los Angeles.
Last night the English actor received the British Artist of the Year at BAFTA LA's Britannia Awards. The Britannia Awards are BAFTA Los Angeles' highest accolade, a celebration of achievements honouring individuals and companies that have dedicated their careers to advancing the entertainment arts.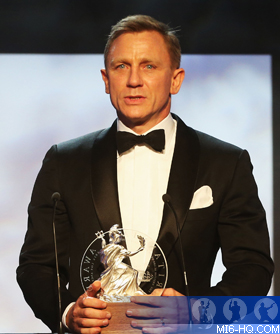 Also amongst the award-winners last night were Trey Parker and Matt Stone, Daniel Day-Lewis and Quentin Tarantino.
The award named after long-time Bond producer, the Albert R. Broccoli Britannia Award for Worldwide Contribution to Entertainment, went to Will Wright, the designer of the long-running videogame "Sim City".
Discuss this news here...