James Bond cookbook, Licence to Cook, now available as an eBook
We don't often see James Bond eating in the films, but food is as much part of the novels as guns, alcohol, exotic women, villains and travel. Ian Fleming said that he wanted to stimulate his readers, right down to their taste buds. He certainly does that. We don't have to read many pages before Fleming stops the action to describe a meal. Food is so important in Bond's world, that a recipe for scrambled eggs is included in the short story, '007 in New York'.
"Licence to Cook: Recipes Inspired by Ian Fleming's James Bond", written by Edward Biddulph, author of articles on James Bond and Ian Fleming and the blog, '
James Bond memes
', is a cookbook full of exciting recipes inspired by the food that Bond eats in the novels and short stories.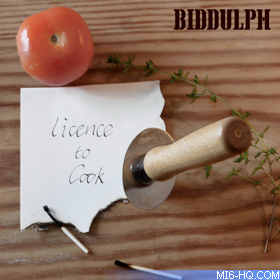 The cookbook is intended for anyone who wishes to recreate the flavour of James Bond's food. If you're preparing a romantic meal for two or planning a Bond-themed party, or if you're simply curious about the sorts of food Bond eats, this cookbook is for you. With sections for breakfast, lunch and dinner, now everyone can eat like James Bond throughout the day.
Order "Licence To Cook" on Lulu
Order "Licence To Kill" on NOOK
Discuss this news here...