Sir Roger Moore receives honorary doctorate at St Albans Abbey
James Bond star Sir Roger Moore was in St Albans last week to collect an Honorary Doctor of Arts for outstanding contribution to the UK film and television industry.
He was one of 15 "pillars of the community" to receive honorary awards and fellowships from the University of Hertfordshire at its annual awards ceremony, held at St Albans Abbey this week.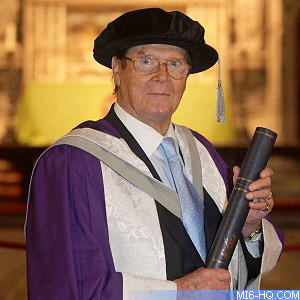 Over 4,500 graduates converged upon the city to celebrate their academic success.
Roger, looking dapper in his purple robes and black cap, joked about the traffic in St Albans, which he blamed for his 20-minute delay at the ceremony.
After posing with a twinkle in his eye for photographers inside the cathedral, Roger said he was humbled by the degree, as he regards Borehamwood and Elstree as a "home from home".
He said: "For an absolute illiterate, it's a great honour."
Asked what James Bond would study if he was at university, Roger promptly replied: "Women."
Discuss this news here...