'Skyfall' lands Golden Globe for Best Original Song
'Skyfall' has landed its first high-profile award tonight. Adele collected the Golden Globe for Best Original Song for "Skyfall".
The British singer-songwriter attended the awards and shared a table with 007 star Daniel Craig and his wife Rachel Weisz, who was nominated in as Best Actress in a Drama for her performance in The Deep Blue Sea. Craig high-fived Adele as she was announced the winner.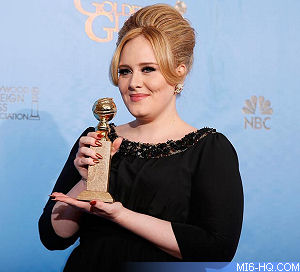 She looked genuinely shocked as she took to the stage to collect her award. She said: "Oh my God! Honestly, I came here for a night out with my friend Ida – we're new mums. Thank you for letting us be a part of your world tonight. We've been pissing ourselves laughing all night. This is for my boyfriend Simon who convinced me to do it and my lovely son."
Afterwards, she told the press how hesitant she had been to take on the job. "It's a big responsibility doing a Bond song – Paul McCartney's done it, and Shirley Bassey," she explained. "I was worried I would let everyone down. But it paid off and everyone loved it. I was very pregnant and very emotional. It was epic. I felt like Frank Sinatra."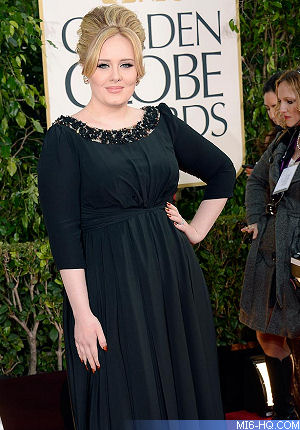 Fellow Brit Daniel Day-Lewis won Best Actor for his performance in "Lincoln", and made Daniel Craig smile as he joked about the Olympic opening ceremony stunt during his acceptance speech. He said: "Her Majesty the Queen is about to parachute in to make a last pitch for Skyfall."
Discuss this news here...