'Thunderball's Earl Cameron interviewed on receipt of his honourary degree (listen online)
Late last month, Earl Cameron, who co-starred in "Thunderball" as Pinder (Felix's contact in the Bahamas) received an honourary degree from the university of Warwick. On receipt of the degree Mr Cameron chatted to the staff at the university about his life and career in a podcast.
As you listen you will stuff on how Earl was also considered for the part of Quarrel in "Dr. No" on Connery being kept on tenterhooks for and "Dr. No" – on just why and perhaps how Patrick McGoohan turned down Bond in "Dr. No" as well as a little on Earl's time in "Thunderball".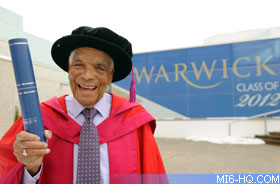 Thanks to `Peter` for the alert.
Discuss this news here...