'Thunderball' geiger counter wristwatch to go up for auction
The screen-used prop, worn by Sean Connery in 'Thunderball', was thought to be lost. But it recently showed up in a garage sale and was purchased by its lucky owner.
Fans over at the forum
AJB
explain that it was purchased off an retired employee of Pinewood Studios, where the 1965 film was shot. The watch, a Breitling Top Time, was modified by the production team and worn by Sean Connery as 007.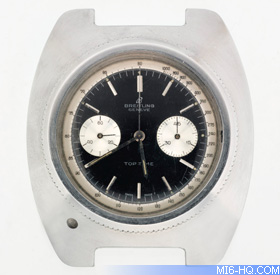 The watch was since examined by experts and confirmed to be the genuine item.
Next month the watch is set to go up for sale at Christie's auction house and is expected to earn the finder between £40,000 and £60,000.
Thanks to Ed for the alert.
Discuss this news here...