Charlie Higson as ornithologist James Bond in new Miss Marple (photo)
Comedian and Young Bond author Charlie Higson is playing James Bond in the new Miss Marple adventure. "I say the line 'The name's Bond, James Bond', but he's the nerdy American ornithologist who Ian Fleming took the name from rather than the bed-hopping secret agent," says Higson.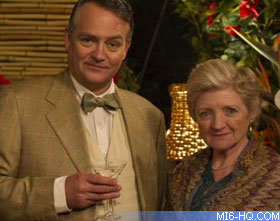 "If you write crime you have to read Christie and it is amazing how intricately constructed those books are, they are a masterclass. Both she and Fleming had their heyday in the middle of the last century, but their characters remain in the public consciousness because their books worked and are still readable," the actor and writer tells
WhatsOnTV.co.uk
.
Reflecting on his newfound career as a children's author, Higson explains: "It's great if a teacher or parent says that their child has never finished a book, but that he has read one of mine and now loves reading... But it's even better if they say the child now only reads mine!"
Discuss this news here...