Richard 'Jaws' Kiel endorses big bite fish burgers
Legendary James Bond villain Jaws – also known as actor Richard Kiel – is swapping a licence to kill for a licence to chill, and is teaming up with food specialist Birds Eye on its 'bigger bite' fish burgers.
The 73-year-old American actor, famous for terrorising 007 in the 1970s as the cable-chomping uber-henchman, is endorsing Birds Eye's new fish burgers, designed for teenagers with oversized appetites.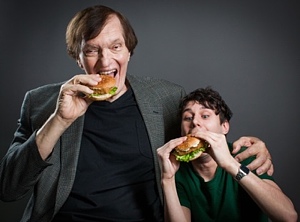 "We all know that teenagers have enormous appetites and need to eat lots of little bites throughout the day to keep their energy levels up. Our new fish fillet burgers crush hunger, weigh in at 113g and pack the equivalent of over four fish fingers in each one – a bigger bite for teens with bigger appetites," said Birds Eye senior brand manager Ky-Le Vuong.
The company cited research suggesting the average British teenager costs £3,244 a year to feed, and feels hungry again just one hour after eating a big meal.
"My steel teeth are only available in museums nowadays, but Birds Eye's fish burgers are a little easier to bite into than a cable car – and a lot tastier. I've had four teenagers myself and know how big their appetites are so it's good to see food developed just for them," said 7'2" Kiel.
Discuss this news here...