William Boyd meets the press for breakfast at the Dorchester (photo)
The latest addition to the James Bond literary canon was introduced to the world's media this morning. At a breakfast-themed media event at London's Dorchester hotel on Park Lane, Lucy Fleming – niece of 007 creator Ian Fleming and board member of Ian Fleming Publications – introduced internationally renowned author William Boyd, the latest to carry the Bond torch with his continuation novel Solo, which goes on sale tomorrow.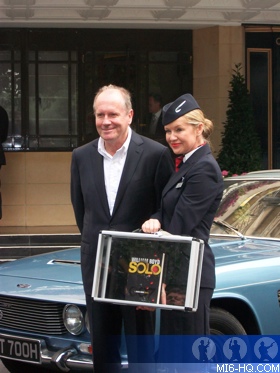 Fittingly, The Dorchester is the site where Bond enjoys a 45th birthday breakfast at the beginning of Boyd's 1969-set book, which he promised members of the press would feature all the tenets familiar with fans of the literary 007, including a new car of choice for the hero, a Jensen FF Mark I.
That very car along with seven further Jensen sportscars were parked outside the hotel during the launch, after which each transported an ambassador of British Airways carrying with them a copy each of Solo (signed by the author) to a BA flight to one of seven major international cities – Amsterdam, Cape Town, Delhi, Edinburgh, Los Angeles and Sydney – ensuring the new novel's launch is an international affair.
Thanks to Adam Bollard for the alert.
Discuss this news here...