Jinx`s Ford Thunderbird draws in the crowds at motor show in Kerala, India
The snazzy Ford Thunderbird Halle Barry drove in the 2002 Bond film "Die Another Day" is attracting large crowds at a motor show in Kerala, India.
"We may never be able to buy a car like this, but it`s thrilling to stand next to the Thunderbird, to touch and to feel it," gushed college student Richa Shah.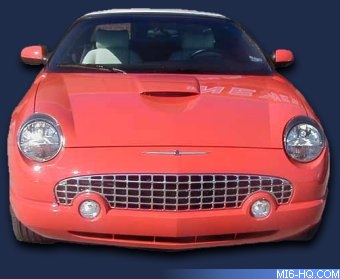 Shah and her friends also got themselves photographed along with the "007 edition" to preserve the moment for posterity.

The Thunderbird is the prime attraction at a "Great Ford Drive" that offers car enthusiasts a chance to check out a just-introduced SUV and two luxury cars.
The Thunderbird, which was specially flown in from the US, was developed from the version first produced in 1956.
Nair, who flagged off the drive, said, "similar events were earlier held in Delhi and Chandigarh and the response so far has been very encouraging."
Apart from the cars, also on display are three vintage Ford models from 1927, 1936 and 1941.
"All the three models have come from collectors in this city," Nair said.

Discuss this news here...