Pierce Brosnan contributes artwork to spay & neuter campaign
The former 007 star has left his mark on an awareness-raising campaign to encourage owners to spay & neuter their pets.
The artwork is appearing on a promotional Californian style licence place to support the work of California Spay and Neuter License Plate Fund Inc. and the Veterinary Medical Board for Pet Lover's License Plate.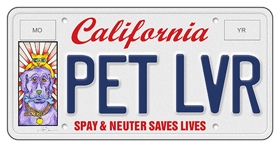 Above: an example licence plate being sold to raise funds and awareness with artwork (left) by Brosnan.
Standard plates are selling for $50 and personalised plates for $98. $40 of the costs will go toward helping spay and neuter programs throughout the state of California,
US Weekly
reports.
Discuss this news here...