Sir Roger Moore calls for more help for the Philippines
Goodwill Ambassador Sir Roger Moore today visited UNICEF's global humanitarian supply warehouse in Copenhagen and called for continued support for children and their families in the Philippines whose lives have been devastated by super typhoon Haiyan.
Accompanied by his wife Lady Kristina, the legendary actor visited the UNICEF warehouse where staff has been packing and shipping out life-saving supplies at full force since Haiyan hit the archipelago two weeks ago. In the past two weeks, UNICEF has sent 240 metric tonnes of life-saving supplies from its warehouses in Copenhagen and Dubai.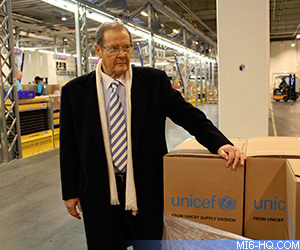 Sir Roger noted the enormous destruction left in the wake of the typhoon and the scale of the emergency response. "There are some five million children who need help – nearly half of them have lost their homes and some are separated from their parents. We are dealing with families spread across 1,500 emergency camps. Many, many people have lost simply everything but their lives," he said.
Sir Roger, perhaps best known for his role as secret agent James Bond, was also briefed on the humanitarian assistance that UNICEF has been providing since the typhoon hit the Philippines.
"The first priority is restoring access to clean water," explained Joselito Nuguid, the Deputy Director in charge of operations for UNICEF's Supply Division.
UNICEF has helped to restore 80 per cent of piped water in Tacloban, the largest city hit by the typhoon. Airlifts have also included water treatment units, water bladders, family water kits, and latrines to help prevent the spread of disease.
To date, UNICEF has sent 25 plane loads of life-saving supplies to the Philippines. The organization has received tremendous assistance from British Airways, Emirates Airlines, and KLM who have donated cargo space from UNICEF's main supply hubs to destinations where the need is greatest.
Sir Roger was moved by the generous outpouring of international support in the wake of the world's most powerful storm, and emphasized the need to keep the momentum going.
"We must keep focused on making sure children continue to be supported," said Sir Roger. "There is so very much that still needs to be done."
Discuss this news here...