Seawind plane could have featured in two Bond movies
Acording to the head of Seawind LLC, Richard Silva, the company's unique plane could have featured in two James Bond films but it never made it in either one.
"For GoldenEye, I flew the plane down to the shoot myself in Puerto Rico. James Bond was (racing) along in this BMW sports car with the femme fatale and Pierce Brosnan was supposed to lift her into the airplane the instant before a crash. Or something like that."
BMW put $30 million in that movie to display its cars prominently, said Silva, the Seawind's promoter. "But when they took one look at the (daily film) rushes, BMW said 'get rid of the Seawind.' We were upstaging them — no one was looking at their car."
In the second movie The World Is Not Enough, also with Brosnan, "I was supposed to fly around London's Millenium Dome and pull up in the water in front of the MI6 headquarters (on the bank of the Thames), where James Bond would come out in a tux."
Silva never made it — regulators would not let him fly the uncertified plane over the Atlantic.
"It would have taken years to get permission. So that's twice I missed out on all that free advertising."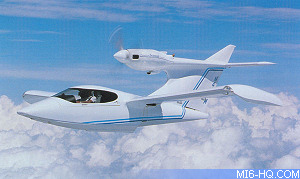 Discuss this news here...