Limited edition `Bond Bonus DVD` free from select retailers, featuring behind the scenes of `Everything or Nothing` clips and more
EA have put together a limited edition Bond Bonus DVD commemorating some amazing features from the game and a few selections from the `making of` "Everything or Nothing".
Catch these exciting feature videos which highlight the following:
- The Everything or Nothing cast
- Gameplay Footage
- High-Action Driving Footage
- Authenticity of the Game
- Multiplayer Co-Op
- Official trailer
- Behind the Scenes video
- Character renders and their bios
- Screenshots
- Theme song by Mya
- In-game samples of Sean Callery`s scores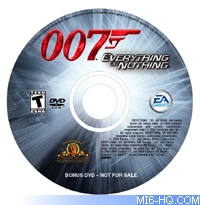 The Bond Bonus DVD will be available to those who pre-purchase James "Bond 007: Everything or Nothing" from select retailers. Watch your Sunday circulars and favorite retailers sites for more information.
Thanks to `Agent 007` for the alert.

Discuss this news here...