'Skyfall' bulldog still in stock on Amazon
The surprising trinket given to 007 by Judi Dench's "M" was a Royal Doulton classic that has been reproduced in light of its starring role in "Skyfall". The model comes in its original box, but has a exclusive sleeve that says "Special Desk appearance in Sky Fall 007." Royal Doulton has been making bulldogs since the 1800s. They reissued them for the James Bond filmmakers.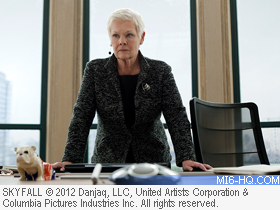 Above: Judi Dench as M with Bulldog Jack
Sporadically in and out of stock on the maker's own website,
Amazon UK
and
Amazon US
currently have a small number of the bulldog seen in "Skyfall" available in stock.
Discuss this news here...