'Spooks: The Greater Good' movie starts shooting, co-produced by Pinewood Pictures
"Spooks: The Greater Good", based on the successful spy series that focused on the work and lives of MI5 agents, has begun filming at Pinewood. Unlike the TV drama, this "Spooks" feature film includes international backdrops, ranging from Moscow to Berlin. Bharat Nalluri, who has overseen the TV series since its conception (as well as co-created the Kudos drama, "Hustle") is directing the movie.
It stars Peter Firth as Harry Pearce, section head of the counterterrorism unit ("Section D") at MI5. He is joined by Jennifer Ehle, Tim McInnerny and Kit Harington. The film is co-written by two of the series' key writers, Jonathan Brackley and Sam Vincent.
The production is co-produced by Pinewood Pictures and Altitude.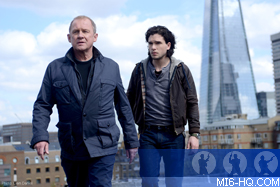 Empire
got the first look at the film, along with hearing the first words from director Nalluri. "Spooks, at its best, has always plucked from the headlines," explains the director. "You've got Julian Assange hanging out in the Ecuadorian embassy, Chelsea Manning, guys grinding computer discs in The Guardian's basement, home-grown Jihadists, email hacking, spying on the Germans, Syria... it's an unbelievable stew."
Discuss this news here...