`Everything or Nothing` demo on March issue of Official PlayStation 2 Magazine (USA)
The
"Official PlayStation2 Magazine"
(USA) has the "Everything or Nothing" demo on the March issue coverdisc, and is now available from news stands.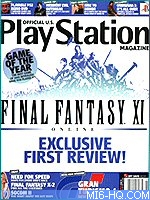 The first mission sees Bond rappelling down the front of a burning Nanotech Facility, and the second mission has Bond riding his new Triumph Daytona 600 along the Pontchartrain bridge towards New Orleans chasing Jaws` tanker.
UK gamers had similar missions on a PS2 demo released in November 2003, but this "new" demo features a multiplayer level called "Bazaar".
Click here for the MI6 survival guide to the EoN demo missions - which have been set on 00-difficulty.
The disc also has demos for "Beyond Good and Evil", "NFL Street", "Metal Arms", "Drakengard", "Champions of Norrath", and "UFC Impact".

Discuss this news here...