First look at Pierce Brosnan's 'How to Make Love to An Englishman'
Perhaps a case for the misleading advertising watchdogs, Irishman Pierce Brosnan takes the lead in a new romantic comedy "How to Make Love to An Englishman" by director Tom Vaughn.
Brosnan stars as a Cambridge University professor who meets his match in Salma Hayek, and is forced to re-evaluate his life of hedonistic excess after he manages to get Jessica Alba, her graduate student stepsister, pregnant.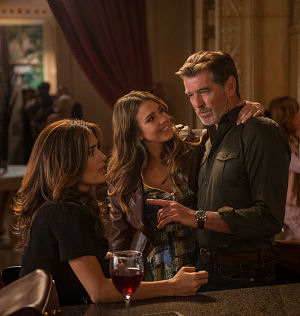 Click to enlarge.
The film is currently in post-production but doesn't yet have a release date.
Brosnan has starred with Hayek before in "After The Sunset", but this go around he also joins Alba for the first time. It's a hard life after being James Bond, isn't it?
Discuss this news here...