Spineless Classics offer MI6 readers 15% off 'Casino Royale' poster
If you were not lucky enough to be drawn in the recent MI6
competition
to win a 'Casino Royale' poster by Spineless Classics, it is still not too late or order a copy of your own.
Spineless is a poster concept for literary fans. Spineless Classics creates unique designs using the full text of a book on a single page to form stunning pieces of wall art. The collection includes an extremely diverse range with over 100 classic titles. Every word from the book is included as well as all of the original formatting. Casino Royale by Ian Fleming is the classic novel that introduced James Bond to the world. The book introduces the many characteristics which have become associated with Bond such as fast cars, beautiful women and Bond's very particular taste in cocktails.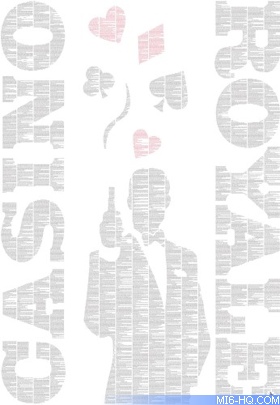 The Spineless Classics print shows Bond holding a smoking gun while card suit figures float in the air above. The full text of Casino Royale forms the image and the letters of the title. The design makes this popular classic instantly recognisable to James Bond fans. It's a stylish design which Spineless has printed at 70x100cm to fit standard size frames and, as always, contains every last word of this inspired novel. All Spineless Classics are printed on heavyweight paper in sharp, lightfast ink which will not fade.
You can visit
spinelessclassics.com
and enter the code "MI6" to receive 15% off your order.
Discuss this news here...