Pierce Brosnan 'Ask Me Anything' transcript
Pierce Brosnan hosted an '
Ask Me Anything
' session with Reddit this week. His answers to the many varied questions were often witty, warm and charming.
Q: Would it really be that bad of a thing to die by Famke Janssen squeezing the life out of you with her legs?
Hehe. When that time comes... it would be nice to go with Famke. Love Famke Janssen.
Q: How would James Bond take down Jason Bourne?
With one bullet.
Q: Were you offered lifetime Aston Martin privileges like Daniel Craig?
No. They gave me an Aston Martin, I have a beautiful Aston Martin, but not sure what the privileges are. There is no button under the gear stick, no. Thank heavens.
Q: Did you ever get to keep any of the bond gadgets?
I only kept one piece of memorabilia from the Bond movies, and it's a credit card that also doubles as a lock pick. And that's it, really.
Q: What happens when two actors who have played Bond meet? Do you talk? Laugh? Fight?
Well, I haven't met my colleagues, my fellow James Bond colleagues in a long time. Daniel and I, you know, there was a time in our lives when I was moving on from Bond and he was moving in, and we discussed just the sheer amount of work that was at hand and the joy of playing this role, and I always wished him good fortune and wanted the best for this man because he's such a fantastic actor, Daniel. And he is a Bond for his time, and will be remembered with such strength of will and charisma.
Q: Do you feel any remorse in killing 006 (aka Sean Bean) and therefore starting a trend in which he must be killed in nearly every role henceforth?
Haha! I had no problems with killing 006. He deserved it. He got in the way, was in the way, and had to be done in. Poor Sean. What can I say?
Q: What is your favorite Bond movie? Both yours and not yours?
My movies would be GoldenEye, I love that movie, it was the first one out the gate, so to speak. And then Goldfinger, because it was the first James Bond film I saw as a boy, fresh off the plane from Ireland in 1964. Thank you for the compliment.
Q: Did you get that Jaw of yours seen to?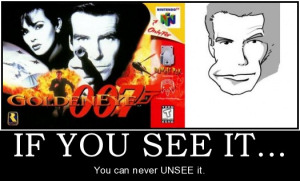 Oh that's crazy! I love it. This is the first time I've seen this piece of artwork. I think it has a rather delightful neanderthal look to it.
Discuss this news here...