`Everything or Nothing` suffers a cold reception in Japan, little limelight given to 007`s latest adventure
"Everything or Nothing" officially shipped in Japan on February 11th 2004 (a national holiday), and surprised some Bond gamers by being available in stores that very day - unlike other territories which have a two day delay before it reaches the shelves.
It might be the latest Bond game that fans have been craving since its original target release date of November 2003, but the Japanese gaming public so far seem unimpressed.
Out of the major Tokyo gaming stores visited for this report, no posters, standees, demo machines or video screens were seen advertising the latest 007 adventure. The release of two other major games on the same day doesn`t seem to have helped Bond`s cause either, with little to no limelight left for EA`s latest title, despite the
localised campaign using Misaki Ito.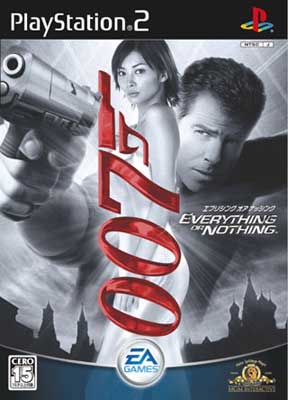 The Japanese cover art for "Everything or Nothing" - courtesy Amazon Associates.
Unlike the USA and Europe, shooting games like "Everything or Nothing" tend not to do well in Japan generally.
Matters are made worse by 007`s recent cinematic outings taking a slide in the country too. "Die Another Day", which was released in March 2003 in Japan, placed 21st in the box office ranking of all films released that year. It was one of the worst box-office records in 007 history. In contrast to Pierce Brosnan`s audience pull in Japan, both Roger Moore and Sean Connery faired considerably better.
All in all, a cold welcome for 007 in Japan.
Thanks to Macc for the intel.

Discuss this news here...