Anthony Sinclair announce Baron Samedi cufflinks as a tribute to Geoffrey Holder
As a tribute to Geoffrey Holder, Anthony Sinclair have collaborated with Deakin & Francis to produce a collection of cufflinks in memory of the great man and the frightening role he played as the villain's henchman, Baron Samedi, in the 1973 Bond movie 'Live and Let Die'.
Holder sadly passed away in October aged 84 but will always be remembered for his role as the iconic voodoo villain in Roger Moore's first Bond film.
Founded in 1786, Deakin & Francis make the world's finest cufflinks, crafting them by hand in their English workshop. The cufflinks are of peerless quality, made from precious metals, vitreous-enamel and fine gemstones, and packaged in an exclusive presentation box. As well as the tribute Geoffrey Holder skull cufflinks, other designs include the British Bulldog, Union Jack and "GB" Cufflinks in a range of colour combinations.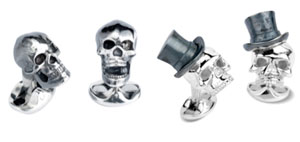 Anthony Sinclair are delighted to have expanded their collection of essential luxury British menswear and accessories with these stunning pieces. Given Deakin & Francis's British heritage, their products make a perfect addition to the Anthony Sinclair online collection.
The Geoffrey Holder skull cufflinks start from £245.00 and will be available to buy online at www.anthonysinclair.com.
Discuss this news here...