Bond 24 set construction continues in Obertilliach, Austria
As MI6 readers will remember, construction of the exterior sets in the small Austrian village of Obertilliach have been in progress since September. Now local press reports show that the main structure - expected by the locals to be destroyed on camera as part of the shoot - is being accompanied by smaller structures.
The new structures are naturally aged and weatherbeaten, wooden cabins relocated from elsewhere.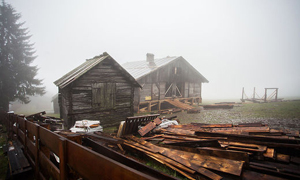 The relocation, the papers note, is causing some controversy amongst locals.
Film work for Bond 24 is expected on the location as early as January 6th 2015 and the crew will be in the country for a number of weeks, with shooting also confirmed at Lake Altaussee.
Thanks to `zebrafish` and `Samuel001` for the alert.
Discuss this news here...