SPECTRE to feature Belvedere vodka
Belvedere announced today that it would partner with EON Productions and the 007 Franchise to become the official Vodka of James Bond.
"At times I love a martini stirred," explained Charles Gibb of Belvedere, "but for a chap who's on the move like me, constantly running around the world, I quite like the energy that shaking brings to the drink."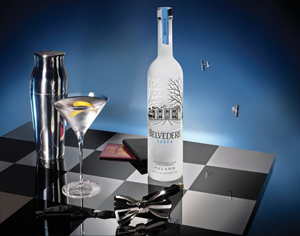 Belvedere's vodka is so suited to the martini because "it's a vodka with character and taste, and there's nowhere to hide inside the martini."
MI6 attended the official launch party for this new partnership between 007 and Belvedere - a full report will be arriving soon from our field agents.
Discuss this news here...