Belgian actor Marc Zinga cast in SPECTRE
According to
DHnet.be
, Belgian actor Marc Zinga will be playing alongside Christoph Waltz as one of Bond's adversaries in SPECTRE.
Belgian newspaper La Dernière Heure will run a complete interview with the up and coming actor. At the moment, however, their website only teases the forthcoming material, with Zinga explaining how thrilled he was to audition for Sam Mendes. The challenge was "to be remembered, even if not get the role," he added.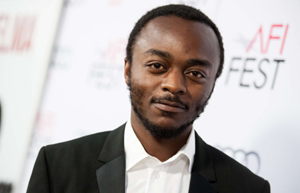 The paper helpfully notes that a Belgian actor hasn't been cast alongside (or against) Bond since Patrick Bauchau in "A View To A Kill" which is coming up for thirty years-old this year. (Although Mathis ["Casino Royale", "Quantum of Solace"] is seemingly French, he is played in the films by Italian Giancarlo Giannini.)
Zinga recent credits include a small role in 2009's "Mr. Nobody", as well as taking the lead in French language film, "May Allah Bless France!" (2014). For his work on this latter picture, Zinga was nominated for Most Promising Actor at the latest César Awards.
Thanks to `Patrick` for the alert.
Discuss this news here...