Aston Martin unveil new DBX concept car
James Bond's new Aston Martin DB10 isn't the only thing that is fresh from one of Britain's most recognised marques. Cutting a path between two poles of luxury and practicality is the new Aston Martin DBX concept car. The fully electric car needs no engine compartment as it is driven by inboard-of-wheel motors powered by lithium sulphur cells.
Capable of accommodating four adults in comfort, the all-wheel drive DBX Concept also majors on day-to-day practicality. It offers generous luggage capacity by virtue of the fact that its rear trunk and forward load bay can both accept passengers' belongings.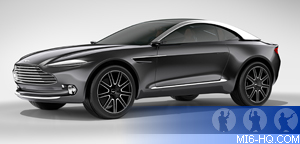 Aston Martin CEO Dr. Andy Palmer commented: "I asked my team at Aston Martin to expand their thinking beyond conventions, to explore what the future of luxury GT motoring would look like in years ahead, and the DBX Concept you see before you is the result."
Discuss this news here...