SPECTRE shoots at London City Hall, Mendes on location (photos)
The production of SPECTRE was back on location in the British capital this weekend. Although Daniel Craig has been absent from the shoot for a couple of weeks, work has continued with the co-stars and helmsman, Sam Mendes.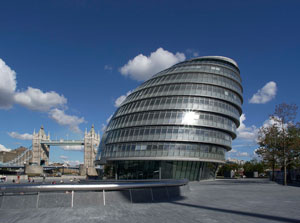 The City Hall is home to Greater London Authority and the Mayor. Previously permission was sought for SPECTRE
to shoot in the Welsh Senedd
but were denied. The architecure of this building and of the City Hall were of obvious attraction to the 007 production.
Although much ado has been made about this unprecedented break for Daniel Craig - with speculations that knee injuries had sidelined the 007 star - he also
took time out of the shoot
to visit the UN and take on the mantel of mine action advocate for the international organisation. Craig is set to rejoin the cast in the UK on April 22nd.
Ralph Fiennes recently revealed he had taken a short break in filming but was back in action this week as "M" after first joining the cast at Pinewood in December 2014.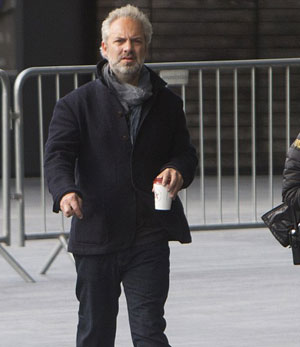 Mendes was snapped on location at the iconic building, just down the road from Tower Bridge. The official 007 twitter account also posted a clapperboard photo from the location.
Discuss this news here...