Colin Salmon unveils mural in North Kensington
Colin Salmon, the actor who played alongside Pierce Brosnan in three of his four James Bond adventures helped unveil a new mural in West London last week.
The art is by Fiona Hawthorne, Salmon's wife, and is now on display in Wornington Green near where the couple met.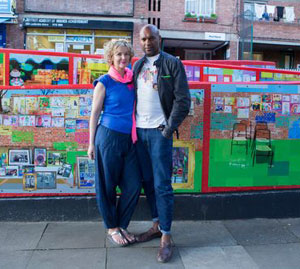 The work was commissioned by Catalyst Housing Group who are undertaking a project to rejouvinate the area.
"I wanted colour and texture to enhance life force, objects to help us consider the beauty of the rich tapestry that makes this community, and to spark a narrative," Hawthorne told
Get West London
.
Thanks to Samuel for the alert.
Discuss this news here...