Factory Entertainment offer up to 40% off Bond props
Factory Entertainment have announced some great savings on their James Bond and screen replicas in the run up to Father's Day in the USA.
Since Factory Entertainment announced their partnership with 007 in 2009, the company has made a series of intricate screen-accurate props from Bond's 50 years on screen.
Currently on sale is the Goldfinger Tracking Devices, GoldenEye key, Moonraker Laser, Quantum Pin, and SPECTRE Ring (From Russia With Love).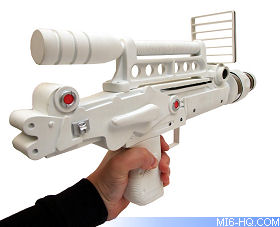 Previous offerings included Scaramanga's Golden Gun, Solitare's tarot cards, and breathers from both "Thunderball" and "Die Another Day".
Readers can check out
factoryent.com
to order at a discounted price
Discuss this news here...