Limited Edition 'SPECTRE' Bollinger is now available
There are few relationships in motion picture history that have endured as long as Bollinger and Bond. First introduced in Live and Let Die, Bollinger Champagne has been an integral part of Bond's lifestyle and the latest Bond adventure, Spectre, sees the Bollinger continue to flow.
Introducing the
Limited Edition Bollinger 2009 Vintage Champagne Spectre Edition
. Made exclusively from the Grand Crus of the Champagne region. Only the finest part of the press, the Cuvee, is used and the Champagne is aged in small old oak barrels to prevent wood flavours or wood tannins dissolving into the wine. This aging process lasts for 6 years, twice as long as the Champagne Appellation stipulates and it shows in the deep golden colour.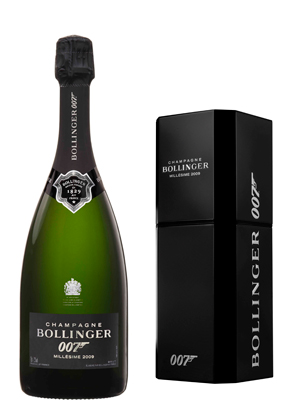 After bottling, the second fermentation and slow maturation in the cellars occur under natural cork to preserve the freshness of the wines while protecting them against oxidation. Plastic stoppers can allow CO2 to escape while allowing oxygen to enter, losing both fizz and flavour.
On the palate this 2009 Vintage has white flowers, citrus fruits and stewed pear with hints of vanilla, breadcrumbs and toasted aromas. It shows good maturity yet remains quite brisk and lively and has a lengthy finish that reminds us of bitter orange.
This Bollinger 2009 Vintage is exclusive to the 007 Spectre Edition. Presented in an elegant dark metal chill box and styled on James Bond's tuxedo. A truly fantastic gift for any Bond or Bollinger fan.
Bond fans can now order the limited edition from
31Dover
Discuss this news here...