Sir Roger Moore accepts award as the most travelled Bond
Late in October Sir Roger Moore accepted an award for 'The Most Travelled Bond' from long haul luxury travel experts Hayes and Jarvis at Harrogate Theatre during his tour of An Evening with Sir Roger Moore. As the Bond of 7 films, travelling a huge distance of 305,516 miles, it is no surprise that Sir Roger came out on top.
Sir Moore was determined as the true 'International Man of Mystery' via
Hayes and Jarvis's interactive website
that maps Bond's journeys from across the 24 films pre Spectre. The content piece was revealed ahead of the revealed ahead of the release of the latest Bond installment on Monday 26th October.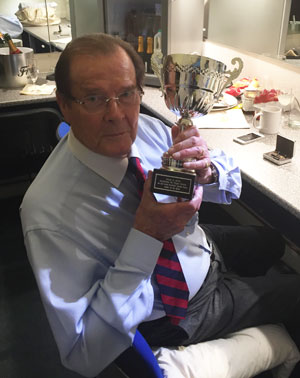 Daniel Craig is nipping at Roger Moore's heels for the title with the distances travelled in Spectre which soon add up with the 48,742 miles already journeyed. Speculation surrounding Craig's future as the iconic spy hint that he may not have the opportunity to steal the title from Sir Roger.
The website features the various destinations each Bond actor travelled to, as well as calculating the exact distance and time to each of these and the spy-worthy activities you can embark on at each location.
For an extensive look into destinations travelled to, transport used, miles journeyed and time taken, head over to
hayesandjarvis.co.uk
.
Discuss this news here...