'The World Is Not Enough' Q-Boat up for auction
Fifteen versions of the boat were made for Pierce Brosnan's famous chase down the Thames, but only four – including this one – were fully functional. This particular model boasts a watertight 5.7L Chevrolet V8 engine, the original driver's seat and steering wheel, and the serial number RMR 007 08L899.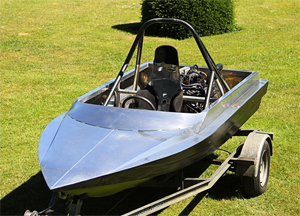 STARTING PRICE
: £6,500
LOT DESCRIPTION
A high speed jet boat created for and used in the pre-title sequence of the Pierce Brosnan spy movie The World Is Not Enough. This vessel was specially constructed for use in the highly praised opening scenes in which secret agent James Bond pursues the villains along the river Thames in an exciting chase. Fifteen versions of 'Q's high-tech boat were made, just four of which were fully functional, powered by 5.7L V8 engines, including this one; the others were designed for special effects sequences including underwater and barrel role shots. Only nine of these remain, mostly as part of touring exhibitions and museums. This particular vehicle had the filming canopy removed once production wrapped, but retains a number of original filming features including a racing driver's seat, steering wheel and most importantly, the functional watertight Chevy engine. The serial number is a classy RMR 007 08L899!
The Q-boat will be auctioned by
Coys
as part of their 'True Greats' day on December 1st.
Thanks to Jade for the alert.
Discuss this news here...