Quentin Tarantino plugs his ideas for the Bond series again, this time with Brosnan`s backing for a `Casino Royale` adaptation
"Kill Bill" and "Resevoir Dogs" director Quentin Tarantino just can`t stop himself from plugging his ideas for the Bond franchise.
After going on the record a number of times last year about
his vision for a "Casino Royale"
movie, and
his thoughts on Timothy Dalton`s two films
, Tarantino has used his latest publicity stint with "Kill Bill: Volume 2" to remind producers of his passion.
Tarantino today told
SCI FI Wire
that he has talked to Pierce Brosnan about adapting Casino Royale as Brosnan`s fifth and final James Bond film. The director noted that his challenge would be to convince producers Michael G. Wilson and Barbara Broccoli to diverge from the current formula of expensive action set pieces.
"I don`t see that they have anything to lose at all," Tarantino said in an interview. "They`ve got this gigantic franchise, they can`t do anything wrong with it. Pierce Brosnan`s only going to do one more movie for them, if that, so if he stayed on to do one more with me, let`s just this one year go my way and do it a little differently. I won`t do anything that will ruin the series."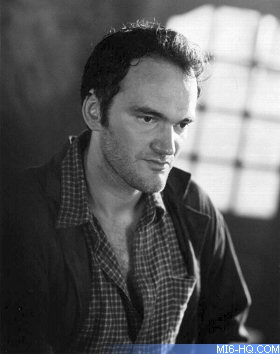 Tarantino hopes that the offer of a low budget and Brosnan`s return would convince the producers to approve a one-time-only return to the character-driven spy plots of the first several 007 films. "Wouldn`t it be great to have a James Bond movie that didn`t cost $115 million and only cost $40 million or something like that?" he asked. "You know it`s going to make its money back, and we [would] all do good. Maybe we win the critics this time, then you`re back in business the way you were before."
Tarantino felt there was only "a thin chance" that he would win the project, and said he would concede to update the 1952 novel for the present day. "If I owned the material, I would set it in the `60s, but I`m sure I`d have to do it now."
Thanks to Gandalf for the alert.

Discuss this news here...