First young James Bond novel title and cover revealed - `Silverfin` by Charlie Higson due March 05
Ian Fleming Publications today confirmed the first of five "young James Bond" novels by Charlie Higson will be titled "Silverfin".
IFP also revealed some draft cover artwork for the new book, which is scheduled to be released in March 2005 by Puffin in the UK, and Miramax in the USA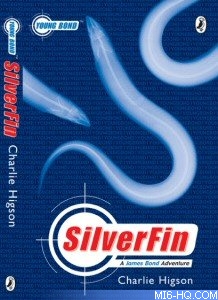 The official site released this note about the forthcoming adventure:
As part of our ongoing programme of declassifying sensitive material, we can now reveal that Charlie Higson's first Young Bond novel, due for publication in March 2005, is titled SilverFin. Here is an advance preview of Puffin's front cover....

The dark waters around a Scottish castle hold a sinister secret. One man with a thirst for power will use it - whatever the cost. SilverFin is dangerous. SilverFin is the future. SilverFin must be destroyed...

Bond, James Bond.

The legend begins with SilverFin.
Click here for more about Charlie Higson's new series of 007 stories
, taking readers back to the time when James Bond was in his youth.
Thanks to `IFP` for the alert.
Discuss this news here...