Young James Bond `Silverfin` by Charlie Higson available to pre-order
The first of five "Young James Bond" books by Charlie Higson is now available to pre-order in the USA.
Click here to pre-order "Young Bond1: Silverfin - Book #1" by Charlie Higson (hardback edition) for $16.95
.
The US edition, published by Hyperion Books for Children, is scheduled for release on April 27th 2005. The UK release by Puffin has been announced as "March 2005".
The second book in the series is expected in November 2005.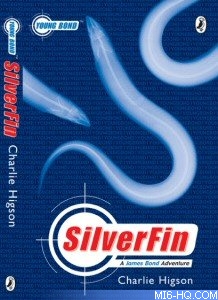 The dark waters around a Scottish castle hold a sinister secret. One man with a thirst for power will use it - whatever the cost. SilverFin is dangerous. SilverFin is the future. SilverFin must be destroyed...

Bond, James Bond.

The legend begins with SilverFin.
Thanks to `JP` for the alert.
Discuss this news here...