Play `Scene It 007 Edition` DVD game demo missions online!
As MI6 first reported back in June, the famous series of Scene It? DVD game has gone 007, with a special edition dedicated to the world's most famous secret agent.
Click here for the MI6 preview.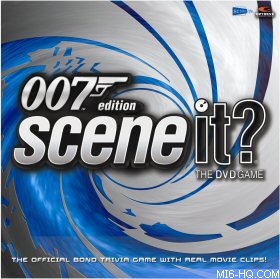 The board game features a DVD of some of Bond's most intriguing adventures, lethal gadgets, and beautiful women. To play, just put the disk in your DVD player, set out the game board and the cards, and challenge your friends and family to some Bond-based trivia.
But you don't have to wait for the boxed version of the game to get your Bond on.
Now you can experience the latest Scene It? game, in a virtual format.
Click here to play two demo missions online!
You will have 2 missions to accomplish. Each has its own set of challenges. Just like the board game, you'll answer James Bond trivia questions from either a video clip or a trivia card. The trivia cards are broken down into three categories - Basic Bond, Beyond Bond and Brilliant Bond. But instead of playing against friends and family, you'll be racing against the clock. The computer will roll the dice for you and keep track of your progress on a virtual game board. The numbered die will tell you how many spaces your virtual token will move on the board; the category die will tell you what type of question you'll be answering. All you have to do is put your 007 knowledge to the test.
The game will be in stores in October 2004.
Be sure to enter the Scene It? website competition
- offering one lucky winner a complete set of James Bond Swatch watches!
Thanks to `JP` for the alert.
Discuss this news here...