Nintendo confirm GoldenEye: Rogue Agent version for new DS handheld, but sources say no development by EA yet
The Nintendo DS, the latest handheld platform, is set to ship in the USA on November 21st 2004 with a retail price of $149 - but James Bond fans will have to wait for the first 007 title.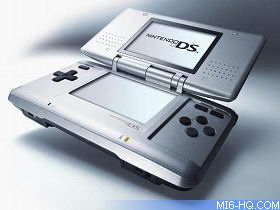 Nintendo today confirmed the line-up of games due to be published on the new twin-screen handheld. Most of the titles available for launch will be from Nintendo themselves, although third party developers will have some titles ready for launch and many more released shortly afterwards.
Electronic Arts are said to be working on a number of titles, and Nintendo confirmed the official line-up today. Titles available in the launch window include Super Mario 64 DS from Nintendo, Madden NFL 2005, Tiger Woods PGA TOUR(R) Golf and The Urbz(TM): Sims in the City(TM) from EA, and a major title from Activision.
As MI6 revealed last month
, Nintendo re-confirmed that EA Games will be releasing a version of the latest game from the Bond universe, "GoldenEye: Rogue Agent" for the Nintendo DS, although no release date was fixed.
Sources have told MI6 that due to intense efforts to ensure "GoldenEye: Rogue Agent" is on time for a November 15th 2004 US ship date on PlayStation, Xbox and Gamecube, development has yet to set on a Nintendo DS spin-off version.
"DS provides the road map to the future of video games," says Reggie Fils-Aime, Nintendo of America's executive vice president of sales & marketing. "The overwhelming support of strong third-party titles, combined with Nintendo's flagship franchise, makes this the strongest software support for any Nintendo system in more than a decade."
As part of an incredibly strong launch offering, players will receive a free playable demo of Nintendo's upcoming Metroid Prime Hunters game, titled Metroid Prime(R) Hunters: First Hunt. Each system also offers a built-in PictoChat(TM) feature, which lets users type text or draw pictures and transmit them wirelessly to up to 15 other Nintendo DS users nearby. Players can expect Nintendo-published games to retail for as low as $29.99.
Thanks to `Jonny` for the alert.
Discuss this news here...