Christopher Lee talks about his voice work as Francisco Scaramanga in `Rogue Agent`
Christopher Lee, who played Francisco Scaramanga in the 1974 film "The Man With The Golden Gun" reprised his role for the latest videogame "GoldenEye: Rogue Agent". He talked to the
Hollywood Reporter
today about his voice over work.
Christopher Lee says he does not own a computer or a mobile phone. But that hasn't prevented the veteran British actor from starring in some of the most successful and accomplished marriages of narrative and computer-generated artistry that ever entertained an audience.
Going into the digital realm, Lee's talents are a pivotal part of the latest game set in the Bond universe. The voice and likeness of the 82-year-old actor appears in Electronic Arts' "GoldenEye: Rogue Agent".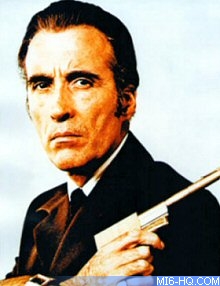 For "Rogue Agent," Lee reprised his role as James Bond's nemesis Francisco Scaramanga from 1974's "The Man With the Golden Gun." The game allows players to assume the bad guy role of GoldenEye as he joins Auric Goldfinger in a war against Dr. No.
"When I played Scaramanga, he was lethal," Lee said. "He had to be charming, he had to have a sense of humor, he had to be attractive to women, (and) he had to be almost envied by men for his abilities, deadly though they were."
"It goes back to the fact that my generation and the next three or four know me from the films I did 40 years ago, 30 years ago, 20 years ago, 10 years ago," Lee said. "But now there are generations starting at the age of 6, 7, 8 up to 80 or 90 who know me -- and how many actors can you say that about?"
Thanks to `JP` for the alert.
Discuss this news here...