Anthony Horowitz, who turned down Young James Bond project, enjoys success with rival MI6 teen series
The name's Horowitz... Anthony Horowitz... and he's possibly the busiest writer in the UK, if not the world, and was winner of the
Red House Children's Book Award
. Anthony juggles being one of the most successful writers of fiction for kids and teenagers, with high-profile writing for TV, the movies and the stage.
Born in North London (where he still lives), Anthony says, "I think I knew with certainty that I wanted to be a writer around eight". For birthdays, he asked for books, pens and a typewriter. His schooldays were not especially happy, more like something "out of Dickens or Dahl", and one reason he began writing books for young people was "to make up for the shortcomings of my childhood".
Anthony's first novel was ENTER FREDERICK K BOWER, published in 1979 when Anthony was just 23. He has now written 25 books for young people, plus one forthcoming novel for adults. Favourite titles include the DIAMOND BROTHERS TRILOGY (THE FALCON'S MALTESER, SOUTH BY SOUTH EAST and PUBLIC ENEMY NUMBER TWO), THE SWITCH and THE DEVIL AND HIS BOY.
It was Anthony's creation, in 2000, of Alex Rider, that really set the world on fire. Alex is a 14-year-old boy, sent around the world as MI6's secret weapon, with gadgets ranging from explosive zit cream to a customised mountain bike. Reluctant superspy Alex made his electric debut in STORMBREAKER and then a triumphant return in POINT BLANC, SKELETON KEY and now EAGLE STRIKE. The books have proved phenomenally popular with readers and reviewers alike. "He is James Bond in Nike trainers, a reinvention of Ian Fleming's icon, younger, cooler and less sexist, and he has caught the imagination of thousands".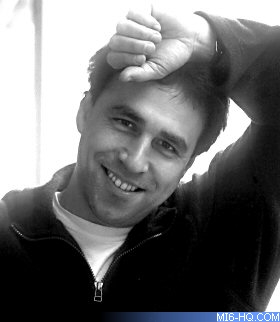 The success of the Alex Rider books has been nothing less than phenomenal. In 2000, Walker Books printed 12,500 copies of Alex's debut adventure Stormbreaker. The book has now sold around 250,000. Alex's second and third adventures, POINT BLANC and SKELETON KEY have now sold over 250,000 apiece. In April 2003, Walker Books' first print run of EAGLE STRIKE is an incredible 180,000 copies. By the end of the year, there should be over a million Alex Rider novels in circulation.
Anthony has always been a big fan of the Bond novels and movies but feels that "James Bond died the day Roger Moore turned up in a safari suit". To create the world of Alex Rider, he carries out extensive and often dangerous research. To date, this has ranged from researching SAS techniques to scaling a 150 metre crane. He went underground at the Wimbledon Tennis Championships (under Centre Court to be exact) to research SKELETON KEY, and ended up watching a match from between Pete Sampras's legs!
Anthony lives in North London with his wife Jill Green, a TV producer, and their sons Nicholas (14) and Cassian (12). The whole family gets involved in Anthony's writing. Jill has produced several of Anthony's scripts, including Foyle's War, and Cassian is already a seasoned actor, having appeared in four of Anthony's shows. But perhaps the most exciting challenges go to Nicholas, who has helped Anthony to research the Alex Rider books by trying his hand at everything from scuba-diving to snowboarding to surfing.
Thanks to `JP` for the alert.
Discuss this news here...