Former James Bond girl Rachel Grant on 007 - `the best thing I have ever done`
Rachel Grant's CV reads like the table of contents in a lightweight lads' magazine - James Bond film star, Angelina Jolie's body double, Lynx girl and martial arts aficionado are all on the list. But there is far more to this 26-year-old than deodorant and skimpy underwear - reports
The Barnet Times
.
Among the more curious facts about the one-time Bond girl (
Peaceful Fountains of Desire in "Die Another Day"
) is a blood-link to the Queen, her enjoyment of Jewish and eastern European fables, a penchant for Haggis and that she lives in Hendon.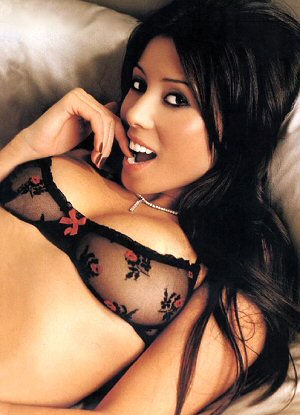 Her paternal grandfather, Baron de Longueuil, cousin to the Queen, died last year of cancer, and Ms Grant is also working with Cancer Research to promote an abseiling world record event.
"I know Cancer Research well I have quite a few family members who have been affected," she said. "My grandfather died last year."
As Peaceful Fountains of Desire, she played an oriental masseuse and assassin in 2002's Die Another Day. Her role alongside Piers Brosnan is her most memorable to date, and she believes that, although Brosnan has apparently thrown in the towel, he may make a comeback to the part of the much-loved misogynist.
"Being a Bond Girl is like having a tag," she said. "Starring in Die Another Day is probably the best thing I have done. Piers was charming. He is very nice.
"I think Piers will do it again, having spoken to a few people. I would put money on it."
She has also performed as Angelina Jolie's body double in Tomb Raider they have the same 36-25-35 measurements and is now filming a new series of the quirky whodunnit Murder in Suburbia, in Stanmore and Bushey.
Barnet may be a long way from James Bond's world of fast cars and tropical idylls, but Ms Grant, a Scot Filipino, has made it her home for four years, and is not scared to professes her love for the borough.
"If I moved to LA, I would still keep my flat in Hendon," she said.
"When I was looking for a house, I looked up the Northern Line and found Hendon. I love it here. I like Oriental City shopping centre and Holmes Place gym in Hendon I'm there almost every day. And I have been to some bars near Hendon Tube for some get-togethers with friends."
u Participants need to pay a £20 registration fee to join the abseilers at Twickenham on March 6, and agree to raise a minimum of £50 in sponsorship.
For more information, visit www.cancerresearchuk.org/abseil
Thanks to `JP` for the alert.
Discuss this news here...