Quentin Tarantino says James Bond producers have made a mistake dropping Pierce Brosnan
Cult film director Quentin Tarantino claims James Bond bosses have made a mistake by dumping Pierce Brosnan as 007 - reports
ITV
.
The Kill Bill director had been desperate to remake Casino Royale with Brosnan in the lead. But the film is going ahead with neither Tarantino nor Brosnan on board.
Producers are now deciding who will become the new Bond with Clive Owen among the favourites for the role.
Casino Royale was author Ian Fleming's first Bond book and is one of Tarantino's all-time favourites.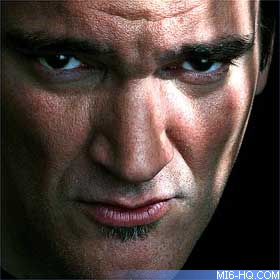 Speaking at the Empire awards in London Tarantino said: "I would have liked to do Casino Royale with Pierce Brosnan.
"But once I heard Brosnan isn't going to be doing any more Bond films, that killed it as far as I was concerned.
"Over the course of time he's really proven himself to me as the James Bond for this generation."
Tarantino said he would still like to work with Brosnan on a future film.
Thanks to `JP` for the alert.
Discuss this news here...