Julian McMahon on James Bond role - `I have been in talks`
He was once best known for his roles in the television soap Home and Away and the film Exchange Lifeguards.
These days, Julian McMahon is one of Hollywood's most sought-after actors, and one of several names mentioned as the future James Bond - but he can't say too much.
"I have been in talks but I don't know what's going to happen," he told
The Australian
yesterday.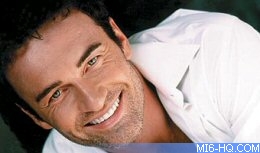 Now based in the US, and sporting a pronounced American accent, McMahon is briefly back in his native Australia to promote Fantastic Four. He plays the evil Dr Victor Von Doom, who opposes a mission by a group of astronauts played by Ioan Gruffudd, Jessica Alba, Michael Chiklis and Chris Evans.
Like Spider-Man, X-Men and Hulk, the film is based on a Marvel comic strip, and there are hopes that Fantastic Four, which is released in Australia on July 7, might become the first of a series.
In the meantime, McMahon is preparing for a new season of the hit US drama series Nip/Tuck. He was nominated for a Golden Globe this year for his role as plastic surgeon Christian Troy. While he seems to have a talent for attracting bad guy roles, McMahon said he enjoyed all the characters he played.
"Not only do I like them, I think there's really nice aspects to them," he said.
"The guy I play in Nip/Tuck ... is the only one who is consistently and brutally honest, and whatever is put in front of him he will try to rectify or remedy."
The son of the late prime minister William McMahon and his wife Sonia said his mother was "100 per cent supportive" of his career, including his role in Nip/Tuck, although he admitted to being concerned the show was too racy for her.
"She's not a prude, but it's not like you really want to see your son's arse on TV and, unfortunately, she gets to see it a lot in this show."
McMahon said it was "very touching" to be accompanied by his mother to the Golden Globes ceremony.
"It was wonderful because I left Australia and started working overseas under difficult circumstances inside of my family, (his father died in 1988) and now to come to a point almost 20 years later where we are on the red carpet at the Golden Globes ... she is so proud and so happy seeing me having realised my dream."
Thanks to `LicenceToKill` for the alert.
Discuss this news here...