Villainous details revealed of second Young James Bond book BloodFever
MI6 has learned of some advance details on the main villain from the forthcoming adventure BloodFever - the second of the Young Bond novels by Charlie Higson.
BloodFever will feature an Italian Count who has constructed a mountain fortress in Sardinia. The plot kicks off when the family of one of Bond's Eton class mates goes missing at sea. Bond travels to Sardinia and uncovers a deadly plot and tackles pirates, bandits and art theives before the final showdown in a cave shoot-out.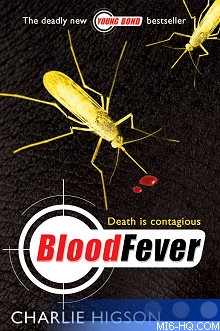 BloodFever will be released on January 6th 2006 in paperback in the UK
- it was announced today by Puffin Books.
BloodFever is set largely in Sardinia, where James is spending his summer holidays, and features, in Charlie Higson's words, "pirates, bandits, art thieves and a shoot-out in a cave; everything you could want from a James Bond book."
The Young Bond series has been commissioned by Ian Fleming Publications, owners of the James Bond literary copyright.
Stay tuned to MI6 for the latest and most indepth coverage of Blood Fever!
Discuss this news here...