Angelina Jolie named top candidate for a James Bond Girl by AMC viewers
In today's glut of male and female film action heroes, James Bond still attracts enormous popularity - but more importantly, so do his women. According to a poll conducted by
AMC
, the cable network that's currently airing a month-long blitz of "007's" first 17 films called "The Complete Bond: 1962-1989," Angelina Jolie is the toughest, sexiest and most popular choice to reprise the role of Bond Girl "Pussy Galore."
An overwhelming 40% of 1,000 men and women polled said that Jolie, who straddles both dramatic and action roles with equal gusto - most recently in "Mr. and Mrs. Smith" - could play the illustrious femme role if "Goldfinger" were remade today. The other top contenders in order of popularity rated as follows: Charlize Theron (14%) Pamela Anderson (13%) and Jessica Alba (10%). "Herbie: Fully Loaded" star Lindsay Lohan unfortunately couldn't fill the Bond Girl stilettos according to the poll and only garnered 4%.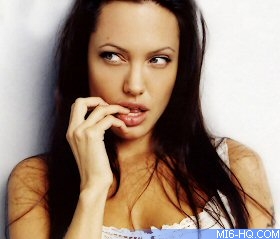 In addition, total respondents also named Jolie's signature character "Lara Croft" as being the most capable female movie character to bring James Bond to his knees in a fight with 29%, topping another Jolie character, the married assassin "Mrs. Smith," with 17%. In comparison to other fictional tough gals, it was a tight race between Uma Thurman's main character "The Bride" in "Kill Bill" in third place with 14% "while Jiao Long," played by Ziyi Zhang in "Crouching Tiger, Hidden Dragon" tied at 12% with Jennifer Garner's "Elektra."
When asked which Bond Girl possesses the best name, both current and past characters made the cut: Honor Blackman's character "Pussy Galore" once again was the outstanding choice with 44% followed by 19% for Halle Berry's "Jinx" from "Die Another Day."
Similar bikini design might be a big reason why voters selected Halle Berry at 29% as the sexiest Bond Girl ever, with Ursula Andress second at 12%. However, the majority of voters stated they did not maintain a favorite Bond Girl among all the movies -- men at 25% and women at 35%.
Once one gets past the espionage, seduction and beauty, Bond Girls are complicated creatures after all. What traits make up an ultimate Bond Girl? According to the poll, the top three votes went to: "Drop-dead gorgeous" at 65%, "Provocative" at 40% and "Flirtatious" at 34%. An interesting note was that only 6% of voters believed that a Bond Girl would require being a well-known actress to assume the role. Attention all ingenues: Apply for the next Bond film!
"The Complete Bond: 1962-1989" will showcase 17 films spanning three decades of "007," beginning with the "gentleman agent's" debut in "Dr. No," starring Sean Connery, through 1989's "License to Kill" with Timothy Dalton. AMC will premiere the world television premiere of the fully restored letterbox versions, Monday through Friday following each primetime airing.
AMC Research commissioned InsightExpress in July 2005 to conduct a nationally representative online survey of 1,000 respondents. 454 Men and 545 Women aged 18+ completed the study.
Thanks to `Kyvan` for the alert.
Discuss this news here...