Sir Sean Connery kicks off `match for peace` with Israel and Palestine (photos)
Former James Bond star Sean Connery joined other spectators at Barcelona's fabled Nou Camp stadium to watch the Spanish giants, whose line-up included newly crowned European Footballer of the Year, Ronaldinho, take on a joint Israeli-Palestinian team - reports
ADNKI
.
The so-called "Peace Team" made up of Israeli internationals and residents of the West Bank, lost 2-1 to Barcelona in Tuesday night's game which was organised by the Peres Centre for Peace - a body set up by the veteran Israeli politician Shimon Peres - to promote harmony in the Middle East.
Barcelona took the lead in the 60th minute through a lob by the Brazilian-born Portuguese international midfielder Deco, before his teamate striker maxi Lopez doubled the hometeam's score five minutes later. Israeli international winger Abas Suan pulled a goal back for the Peace Team in the 67th minute for the final strike of the game which was played in front of a 31,820-strong crowd.
"Football is a great contributor to the peace process," Peres told a press conference. "I think all of us are coming here with one message and that is peace has a future," he added.
The match was timed to coincide with the end of the Euro-Med summit in Barcelona, which brought together European, North African and Israeli leaders in the Catalan city.
"What we really need is to get back some of the optimism [in the Middle East peace process] we had five years ago and I'm sure there's going to be a change in the climate within a week," former James Bond star, Connery, said.
The game was broadcast live around the world including Israel's Channel 10 TV station.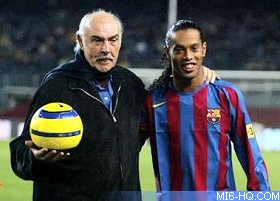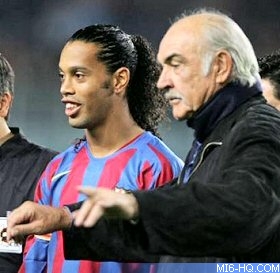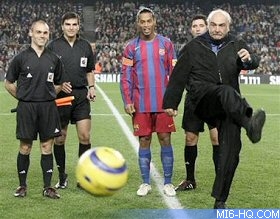 Sean Connery poses with an FC Barcelona shirt during a visit with Israeli politician Shimon Peres to the soccer stadium of the Spanish club FC Barcelona in Barcelona, Spain,Tuesday, Nov. 29, 2005.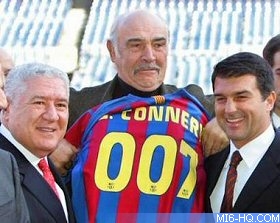 Connery, right, watched by Ronaldinho, third left, takes a ceremonial kick off during a 'Match for Peace' in Barcelona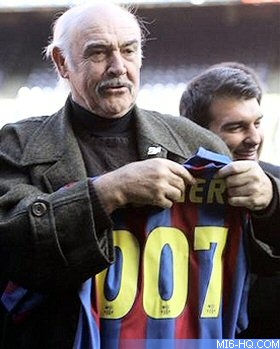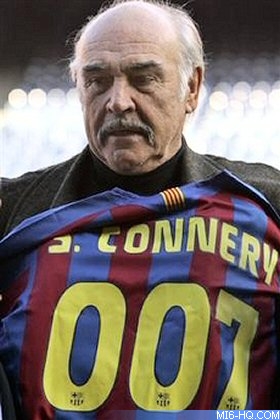 Thanks to `Kyvan` & `Barracuda` for the alert.
Discuss this news here...