New cover art revealed for US hardbark edition of Blood Fever
The official
Young Bond site
has unveiled completely new cover art for the US hardback edition of "Blood Fever" which will be released on June 1st 2006.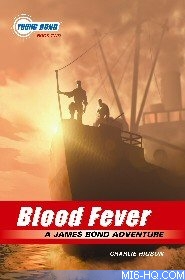 The jacket features a stunning new illustration by Kev Walker, seen here for the first time.
US based Young Bond fans will soon be able to experience US specific news through YoungBond.com as the American version of the site launches to tie in with the paperback publication of SilverFin in April.
Click here to read the MI6 interview with Young Bond artist Kev Walker.
Discuss this news here...