Brosnan makes peace with the DAD product placement
EON have come under atack from fans and critics alike for the unashamed amount of product placement in Bond`s latest outing "Die Another Day". The $130m productoin cost had already been covered by the many sponsorship deals before the film had even hit the box-office.
"It`s really out of my control, but I couldn`t quite believe it. Certain discussions were had - round-tables - and certain agreements were agreed upon. And now I`ve got one big fat lawyer in Los Angeles who sits there like a rottweiler. I say "get `em". And that helps."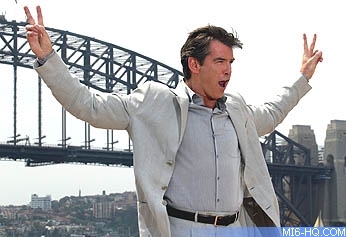 Pierce Brosnan is currently in Australia promoting DAD.
But Pierce Brosnan has made peace with the torrent of product placement in "Die Another Day", and it`s all because of Ian Fleming - creator of James Bond.
"He wrote about the Sea Island linen shirts. He wrote about the Bollinger. He wrote about the cigarettes. He wrote about the watches. He wrote about the cars. So the die was cast there with Fleming ... It`s one of the things you kind of have to make peace with, really. And I have."
Thanks to Peter for the intel.

Discuss this news here...