Casino Royale banner unveiled on Carlton Hotel at Cannes Film Festival
A new spin on the now familiar Casino Royale teaser poster has been unveiled at the Cannes Film Festival.
As per James Bond tradition at the festival when a new film is shooting, a large banner featuring the new artwork was displayed at the top of the Carlton Hotel.
The new banner features a silhouette of Daniel Craig as 007 in the traditional gun pose.
On day one of the festival, a banner for "The Da Vinci Code" hung in the same location, but was replaced by "Casino Royale" a day later. Commentators have suggested that this was due to Sony's summer tent-pole movie getting negative reviews, so Bond was brought in.
Website
JoBlo.com
has snapped the new banner: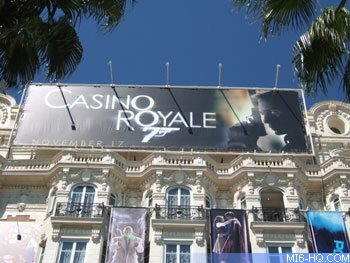 Back in 2002,
Pierce Brosnan was in Cannes to promote the forthcoming "Die Another Day"
.
Thanks to `harmsway` for the alert.
Discuss this news here...