Casino Royale full theatrical trailer to debut online, Thursday on AOL
The final theatrical trailer for the upcoming James Bond film "Casino Royale" will make its debut online.
AOL Moviefone will host the premiere of the anticipated trailer on Thursday 7th September 2006 at 10:30pm PST.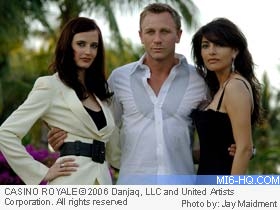 CASINO ROYALE is based on Ian Fleming's novel of the same name. Published in 1953, it was the first book in his James Bond series. EON Productions' Casino Royale produced by Michael G. Wilson and Barbara Broccoli will mark the introduction of Daniel Craig as legendary secret agent, 007. Martin Campbell is directing this film, the 21st in the 44 year franchise.
Casino Royale introduces JAMES BOND before he holds his license to kill. But Bond is no less dangerous, and with two professional assassinations in quick succession, he is elevated to "00" status.
Bond's first 007 mission takes him to Madagascar where he is to spy on a terrorist, MOLLAKA (Sebastien Foucan). Not everything goes to plan and Bond decides to investigate, independently of MI6, in order to track down the rest of the terrorist cell. Following a lead to the Bahamas, he encounters DIMITRIOS (Simon Abkarian) and his girlfriend, SOLANGE (Caterina Murino). He learns that Dimitrios is involved with LE CHIFFRE (Mads Mikkelsen), banker to the world's terrorist organizations.
Secret Service intelligence reveals that Le Chiffre is planning to raise money in a high-stakes poker game in Montenegro at Le Casino royale. MI6 assigns 007 to play against him, knowing that is Le Chiffre loses, it will destroy his organisation.
M (Judi Dench) places Bond under the watchful eye of the beguiling VESPER LUND (Eva Green). At first skeptical of what value Vesper can provide, Bond's interest in her deepens as they brave danger together and even torture at the hands of Le Chiffre.
In Montenegro, Bond allies himself with MATHIS (Giancarlo Giannini) MI6's local field agent, and FELIX LEITER (Jeffrey Wright) who is representing the interests of the CIA. The marathon game proceeds with dirty tricks and violence, raising the stakes beyond blood money and reaching a terrifying climax.
Click here for the AOL Moviefone website
.
Thanks to `cwoodside` for the alert.
Discuss this news here...