Casino Royale OST to run to 75 minutes, all track durations revealed
As previewed on MI6 almost two weeks ago, the official soundtrack to the forthcoming James Bond film "Casino Royale" will feature 25 tracks from composer David Arnold.
It has now been revealed that the total play time of the OST CD will be an amazing 75 minutes, far more than recent 007 scores. Individual durations for each track have also been released.
SoundtrackNet
report that while David Arnold's previous films have leaned heavily on an orchestral/electronic fusion sound, Casino Royale focuses more on the orchestra, and uses electronics sparingly. Also - and interestingly enough - Monty Norman's classic "James Bond Theme" is scarce, only showing up a couple of times over the course of the 75-minute album. This makes sense, since it's not until the end that James Bond becomes "James Bond". Instead, Arnold utilizes a melody he wrote for the film's song, "You Know My Name", which subtly hints at a precursor (with the ascending bass line) to the Bond theme.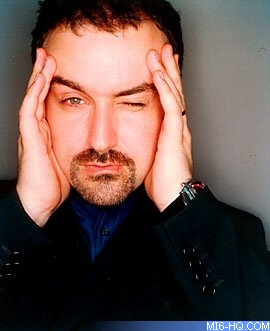 Above: Composer David Arnold
Click here for a full preview of the Casino Royale official soundtrack on MI6.
Thanks to `Dan` for the alert.
Discuss this news here...